Archery Range Moving
Details

Written by

Susan Earley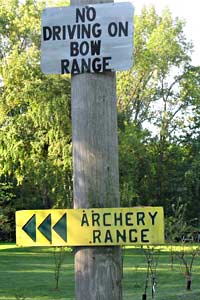 At the March meeting, there was some discussion regarding the current location of the Archery Range. It's a swampy area that does not have a convenient layout. Also, the back stop area is not adequate.
Club president, Don Draper and a group of members met Saturday, April 18, to visit an alternate location. This group, (we'll now call the Archery Committee) saw several opportunities with this location. The suggestion to move the Archery area was made to the Board of Directors on April 26 and was unanimously approved.
This move will take place over the next few months. During this time the current location will be used and an announcement will be made when the new site will open.
The new range area is on the right side of the road as you drive in, near the entrance to the rifle range. There is a natural hill behind the area that can serve as a backstop. Work parties to clear out the areas will be announced as soon as the plan is developed.